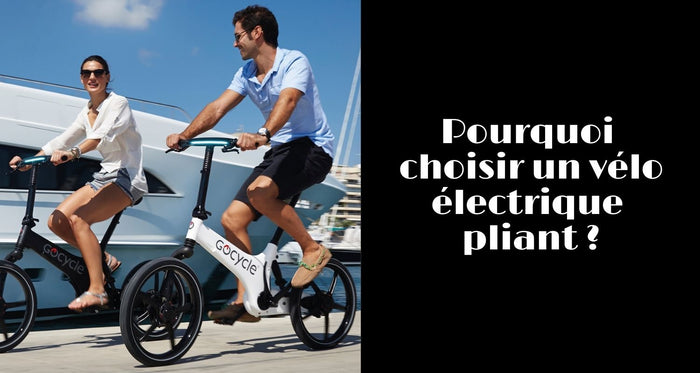 The folding electric bike has become a must when discussing the development of ranges from different manufacturers. This category of electric bikes is intended for a particular profile of cyclists. We will therefore focus in this article on the different models on the market, their uses and the advantages and disadvantages of such a bike.
Choosing the right folding electric bike
Electric bikes are attracting a lot of interest and the use of folding bikes as a means of transport has grown in recent years with the congestion of city centers. Here is a selection of the best folding electric bikes 2021 :
Gocycle brand bicycles are renowned for their advanced technology and reliability . The Gocycle G4 is the big novelty for 2021. Here are some of the advances on this new generation of bikes:
With its G4 model, Gocycle is unveiling a new motor called the G4DRIVE . It is one of the smallest motors in the world , it is smooth and quiet . It is more torquey and more powerful than its predecessors.
The Gocycle G4 features a unique frame design. It is composed of 3 main elements: the central element made of a single hydroformed aluminum piece , the rear part in magnesium and the front fork in carbon fiber . The simplicity of the design and the quality of the components used make it a bike of formidable reliability.
The single-arm front fork typical of the gocycle design is now made of carbon fiber and the cables connected to the motor are fully integrated, which allows more reliability .
In order to improve grip at all times, Gocycle offers new tires treated with silica, inspired by the world of motorcycle competition .
This new bike incorporates a USB port located in the handlebars that will allow you to charge your phone or other accessories.
The Moma E 20 Pro is a 100% urban bike designed to explore the city effortlessly. Its 250W motor and its 4 levels of assistance allow it to adapt to any situation.
Equipped with a 7005 aluminum frame, it is a rather light e-bike. Its maximum speed is 25 km / h and its autonomy of 120 km (depending on weight, type of terrain and level of assistance used) allows you to cover great distances. Its battery is also integrated into the frame and removable.
The LCD screen , installed on the handlebars, informs us at any time of the level of pedaling assistance, the remaining battery capacity, the distance traveled, etc. A USB port is also integrated into the display controller which will allow you to charge your phone during your journeys.
It is equipped with 7 speeds and Shimano components, 20 inch wheels, front suspension and hydraulic disc brakes. It also has all the necessary accessories: front and rear LED lighting, rear luggage rack integrated into the frame, mudguards, kickstand, bell, comfort saddle, ergonomic wrists, and an adjustable stem to ensure optimum comfort and avoid that your back does not suffer.
The City 4Speed ​​is a folding , lightweight and ultra-compact electric bike. Ideal for motorhomes , boat owners or simply for city dwellers who want a practical electric bike for their daily trips.
Small and discreet when folded, the EOVOLT City 4Speed ​​bike allows you to optimize your space .
The EOVOLT folding electric bike is equipped with an LG lithium -ion battery integrated in the seatpost, which combines aesthetics and practicality.
Indeed, beyond offering a more attractive visual , this new system is very practical because it allows you to recharge the battery of your EOVOLT bike without having to move it.
With its weight of 14kg , it is one of the lightest on the market!
The folding electric bike, for what use?
Driving around town
The " commuters ", grouping people who go to their place of work daily , make identical journeys every day. They often need to combine several modes of transport.
During his journey, the user will therefore use several means of transport : RER/metro or tram/metro for example.
In this case, the folding bike will be used to start or end a journey or to join two modes of public transport a few kilometers apart.
To go on holiday
It is in this configuration that the potential of the folding electric bike is revealed. Indeed, you have decided to go on vacation by car, train, camper or even plane? The question of the means of transport once arrived at destination arises each time.
The folding electric bike is the right, practical and economical solution for getting around.
The advantages of the electric folding bike
Take it everywhere
The number 1 advantage of the foldable electric bike is obviously its compact size . Its foldable configuration will allow you to take it everywhere with you.
For city dwellers , you can easily put it in an elevator and then store it in your apartment without it taking up too much space.
Likewise at your workplace , you can keep an eye on your bike while being comfortably seated at your desk.
Uncompromising agility
Its small size allows it to squeeze through traffic. You will also have your feet firmly on the ground and will therefore be completely safe for your daily journeys.
The limits of the folding electric bike
A basic design
The very design of the frame can make certain models of bicycles fragile. The folding system has a lot to do with it. Indeed, the hinges and openings allowing the folding of the bike can wear out over time and therefore weaken the bike.
Basic comfort
The riding position on this type of bike can be uncomfortable for tall people. Indeed, the different models of folding bikes have identical sizes for the most part. The very design of the bike means that the handlebars are very close to the saddle.
On the other hand, these bikes are equipped with small wheels to make them more compact. This makes the bike less stable and comfortable to ride on rough roads.
Heavier than it looks...
We often think that the folding bike is lighter than a classic bike because of its small size , but that's not true! Indeed, in order to solidify the structure of this type of bike, manufacturers use more robust and therefore heavier materials. Folding electric bikes have, on average, a weight of 20kg .
So if you thought you could take your bike along the corridors of the metro and then unfold it at the exit to continue your journey, you are completely wrong!
It may be possible to go up and down a few steps, but if your goal is to find a means of transport that complements public transport, prefer an electric scooter , for example.
Conclusion
The folding electric bike is a good solution in two following cases:
- The first is if you need to store or park your bike at your home or office . In this case, the compact size is a real plus because the bike takes up little space. However, be careful because if you live or work on the upper floors, it is necessary to have an elevator .
- The second is if you want to enjoy your bike once you arrive at your destination when you take your car or the train . You will have a bicycle at your place of vacation , walk or in your motorhome if you are lucky enough to have one!
For the vélotaf , we advise you to use a classic electric bike because it will allow you to make your entire home-to-work journey with more comfort than a folding electric bike.
In summary, the folding electric bike is more to be considered as an extra bike than a mode of travel in its own right.