Muc-Off Anti-Corrosion Spray - 485ml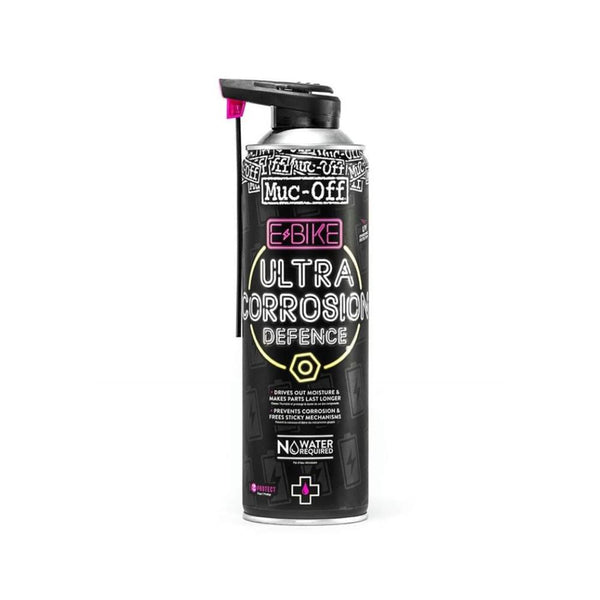 Muc-Off Anti-Corrosion Spray - 485ml
Description of Muc-Off Anti-Corrosion Spray - Battery Protection
Give your e-bike something to protect the battery and its components from rust.
Muc Off Anti Corrosion Spray uses the best anti-corrosion and inhibitor additives for increased rust protection.
LONG-TERM PROTECTION OF YOUR BATTERY
It even works on rusty and corroded surfaces. Muc-Off Anti-Corrosion Spray stops rust in its tracks by removing moisture.
The Spray leaves a protective layer on the frame of the electric scooter, the housing, the terminals and the battery.
How to use MUC-OFF anti-corrosion spray
NOTE: HIDE BRAKING SURFACES BEFORE APPLICATION
Shake the spray vigorously.
After washing your machine, apply this anti-corrosion product to the frame, battery, battery terminals and any other metal parts to remove any remaining moisture.
Spray directly onto the surface, or for a more even and precise coating, apply the product with a cloth.
Wipe off any excess liquid or leave to dry in place for a higher level of protection (but this can attract more dirt between washes).
Note: Mask braking surfaces prior to application. Store in a cool, dry place. Do not apply to tire tread or braking surfaces.
*For extreme and muddy winter conditions, we recommend that you wash your machine and reapply anti-corrosion spray more regularly.
Features of Muc-Off Anti-Corrosion Spray - Battery Protection
Capacity: 485ml

Type: Spray
Protective and penetrating film, durable
Ideal for battery terminals and housing
Resistant to hot, cold and salt water
Dissolves rust
Easy to use with the "Genius" straw
Can be used after cleaning to remove water