LIVALL BH51M Cycling Helmet - Connected and Bright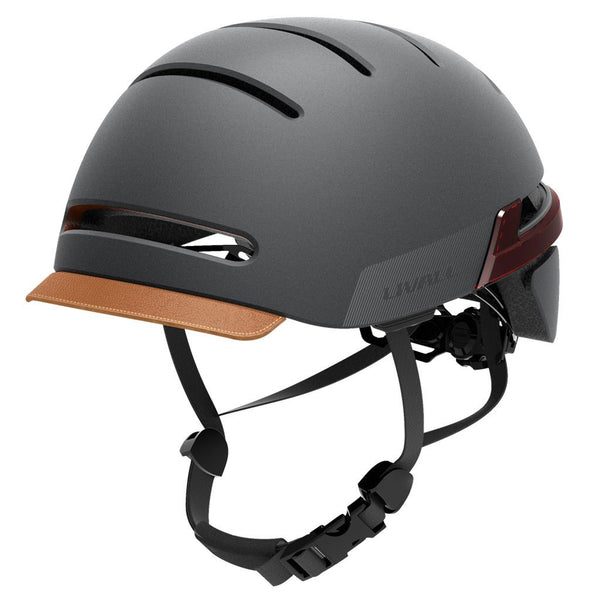 LIVALL BH51M Cycling Helmet - Connected and Bright
Livall BH51M Connected Cycling Helmet Black
The BH51M helmet is the new smart bike helmet from the Livall brand . Its Bluetooth connectivity allows you to activate its speakers or its integrated indicators. The BH51M brings more security and his features simplifies your urban journeys.
The improved connected bike helmet
the Livall Bling BH51M Black is equipped with 80 LEDs over the entire surface of the helmet which are visible over 270 degrees. They serve you as turn signals , like a motorcycle.
The LEDs can be activated using the Jet remote control attachable directly to the handlebars of your bike/scooter.
Also equipped with speakers and a microphone , you can play your favorite music ( via Bluetooth ) and chat with your friends via the hands-free call function of the connected bicycle helmet.
It is also possible to have the information from your GPS straight into your speakers. Very practical on a daily basis.
For the sake of safety, you will hear what is happening around you (horns, cars, etc.) even at full power.
Your Livall BH51M Helmet calls the emergency services in the event of a problem
Moreover, the connected bike helmet is provided with a SOS alert function . It is activated by a sensor device in the helmet to ensure you can get help in an emergency.

A alert message SOS will be displayed for 90 seconds directly on the LivallRiding app. If you do not cancel this message, the app will send it along with your location to the emergency contacts you have pre-registered.
This helmet LIVALL Bling BH51M Black is a patented product that required several years of research and development.
It was designed by renowned designers in the world of professional cycling , the brand being sponsor of the Tour de France .
Features of the Livall BH51M Black Connected Cycling Helmet
Bluetooth : 4.1 – 2.402GHz-2480GHz
Speakers

 

: Stereo 2 x 0.5W
Micro-USB port
Microphone

 

-42db
Lights

 

(LED): 8 colors
Vents

 

: 12
Buttons : Start (play, pause, power off), Volume + (next song), volume - (previous song)
Battery

 

: 3.7V 600mAh
Charging time : 1h30
Autonomy : 10h
Waterproofing

 

: IPX4 standard
Size : 270×225×165mm
Weight : 398g
Visor

 

: PU leather
Size head circumference : 55-61 cm. Adjust it perfectly with the tightening/loosening knob.
Color

 

: Black
The box includes:
1 x LIVALL BH51M Helmet Black
1 x LIVALL Bling Jet Remote Control (BR80)
1x USB cable
1 x User Manual (English)