MUC-OFF Waterless Cleanser - 750ml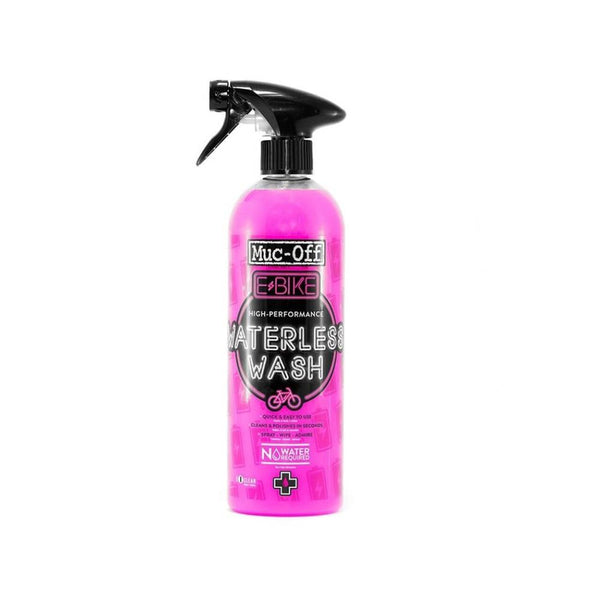 MUC-OFF Waterless Cleanser - 750ml
Description of MUC-OFF Waterless Cleanser
Muc-Off high performance cleaner, for quick cleaning and waxing, requiring no water.
It cleans your bike in seconds, for a streak-free shine. Since it does not use water, this product keeps your electric scooter in good condition without risk of oxidation.
Its innovative formula encapsulates dirt and prevents scratches. Useful for removing dirt between heavy washes.
How to use MUC-OFF Waterless Wash
Shake the bottle vigorously to activate the formula.

Spray on the surface and leave to act for a few moments.

Now gently wipe the area with a clean, dry microfiber cloth, with each pass, fold the cloth to a clean side.

Using another clean microfiber cloth, buff all areas to leave a showroom shine.

Finish by cleaning the braking surfaces with disc brake cleaner and test the brakes after use to make sure the pads are dry.

Do not use on coarse grit/dirt or stubborn dirt as this will inevitably lead to surface scratches.

Always use microfiber cloths as they pull dirt away from the surface.
Wear protective gloves/protective glasses. Keep out of reach of children. Dispose of contents/container in accordance with local regulations. Store in a cool, dry place.
Features of MUC-OFF Waterless Cleanser
Capacity: 750ml
Type: Spray
Non-sticky, powder-free formula
No residue or trace
Cleans and polishes in one application.